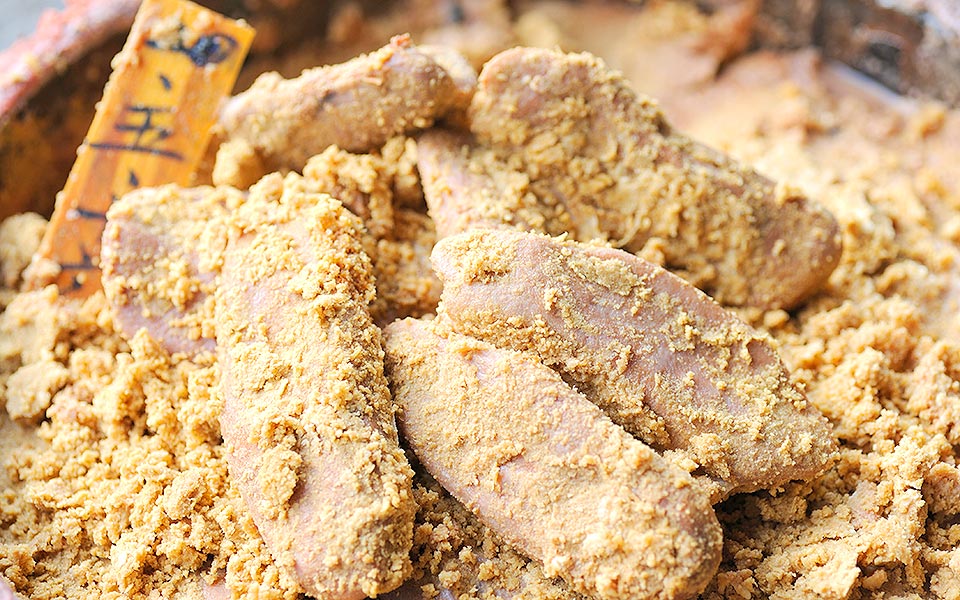 Nonoichi
Hakusan
Kawakita
Nomi
Komatsu
Kaga
Souvenir Shops
Michi no Eki Megumi Hakusan
Offering local fruits and vegetables, fermented items like miso and soy sauce, as well as local sake, snacks and sweets, crafts and folk crafts, and more.
2183 Miyamaru-machi, Hakusan City
TEL 076-276-8931
Michi no Eki Sena
Featuring a selection of items from Hakusan City. The on-site bakery sells bread made with hot spring water from Shiramine and local vegetables and other ingredients.
Tora-163-1 Seto, Hakusan City
TEL 076-256-7172
Michi no Eki Komatsu Kibagata
Explore a lineup of products from Komatsu, including crafts. The attached restaurant is known for teishoku meal sets and curry served with local brand-name rice.
Ke-2-2 Rendaiji-machi, Komatsu City
TEL 0761-25-1188
Muttsuboshi Matto Honten (Rokusei)
A shop operated by Rokusei, who handles every step from farming ingredients through preparing foods. In addition to their own products, they also offer other premium foods.
104 Hashizume-machi, Hakusan City
TEL 076-276-6287
Waku Waku Tezukuri Farm Kawakita
Featuring a selection of local farm products and other local specialties, including local beer made with six-row barley.
Hitotsuya, Kawakita Town, Nomi District
TEL 076-277-8989
Kinoko no Sato (Nomura Agri Product)
Offering mochi, manju dumplings, okaki snacks, and local vegetables. Their black sesame kinako soft-serve ice cream and aojiru soft-serve ice cream are particularly popular treats.
10-82 Nakaumi-machi, Komatsu City
TEL 0761-47-4140
Nakanotoge Local Product Shop
Popular for salt-grilled char, wild vegetables, and miso.
Nu-103 Otsu, Nakanotoge, Komatsu City
TEL 0761-47-5263
Hazuchio Gawa Market (Morning Market)
Held from 7:00 to 8:00 on the first and third Sunday mornings of March through December. Enjoy a great selection of vegetables, seafood, local snacks and sweets, and other local products.
18-59-1 Yamashiro Onsen, Kaga City (Hazuchio Gakudo)
TEL 0761-77-8270
Matto Morning Market
Held from 5:00 to 7:00 every Sunday morning, with sellers offering fruits and vegetables, seafood, prepared foods, and more.
62-5 Tono-machi, Hakusan City (Matto Gakushu Center Parking Area No. 2)
TEL 076-275-0251 (Matto Morning Market Association)
Fresh Jonkara Market
Held Wednesdays and Saturdays from the second week of May through the second week of December. A good place to buy vegetables, flowers, and more.
Wednesday: Starts at 16:00 at MaxValu Nonoichi. Saturday: Starts at 16:00 at PuRaRa A-Coop Tomioku.
TEL 076-248-7336
Butta Agricultural Products Main Shop
Butta grows rice using organic fertilizer, and also offers products like konka-zuke preserved fish, kabura-zushi turnip sushi, and more.
2-162-1 Kanbayashi, Nonoichi City
TEL 076-248-0760
Hayashi Agricultural Products
Growers of rice. Offering rice and mochi for sale.
160 Fujihira, Nonoichi City
TEL 076-246-1241
Saisai (Shiramine Local Product Shop)
Visitors can buy local specialties like katadofu (super-firm tofu) or tochi-mochi (mochi rice cakes made with horse chestnut) here.
Ro-9 Shiramine, Hakusan City
TEL 076-259-2588
Kayano Osugi Chaya
Enjoy kusa-dango dumplings made with flour from locally grown rice, and locally grown mugwort.
To-10-1 Yamanaka Onsen Kayano-machi, Kaga City
TEL 0761-78-5489